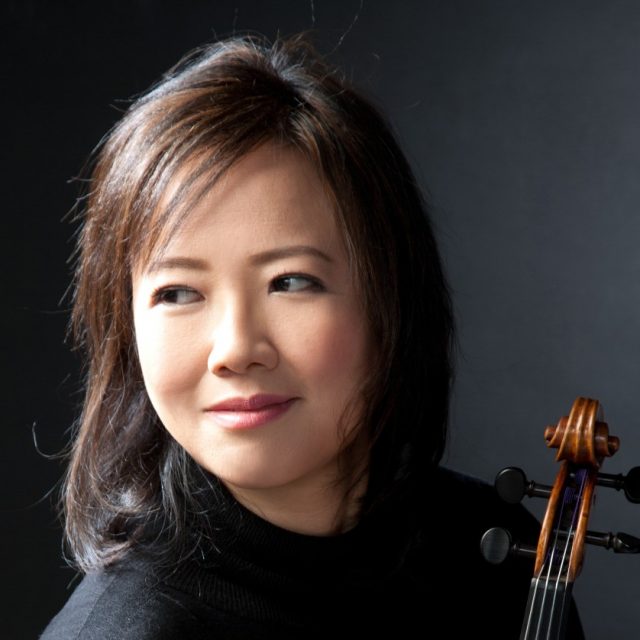 Anne Shih was born in Edmonton, Alberta, to parents of Chinese-Taiwanese heritage. She began playing the violin at age 5 and only began taking formal lessons some two years later. Her sisters, Patricia, leader of the Borealis String Quartet and Professor at Baylor University, and Connie, pianist partner of Steven Isserlis and others, exhibited similar talents.
Anne made her recital debut in Vancouver at the age of just eleven and her orchestral debut just one year later. By this time Anne was equally proficient as a pianist, exhibiting the same extraordinary natural talents as she had with the violin.
She later studied with the noted pedagogue Lee Kum-Sing and began to perform publicly as an equally adept violinist, violist, and pianist, throughout North America, Europe and Asia. Anne was also heard, as both violinist and pianist, on television and radio in Canada, the United States, Korea, and Europe. In 1986, she was featured, along with sisters Patricia and Connie, in the documentary "Which Way to Carnegie Hall?" which then received the Gold Medal at the International Film Festival in New York.
Anne studied with her beloved mentor, the legendary Josef Gingold at Indiana University, and then served as his last teaching assistant as well as class pianist. Janos Starker also requested her as pianist for his top students. She worked with and assisted Denes Zsigmondy in both Seattle and Europe, receiving the Mozarteumspreis in Salzburg.
At the age of 22, Anne was appointed Visiting Professor at the Oberlin Conservatory of Music. She later became one of the youngest – ever tenured C4 Professors of Violin at the Hochschule für Musik Mainz, a position she still holds.
She has served as the Director and Conductor of several ensembles. Many of her students have won prizes at international competitions in Europe, including the Yfrah Neaman, Bartok of the World, Spivakov, Marschner and Yankelevich International Competitions.
Photo: Charlie Lin Studios