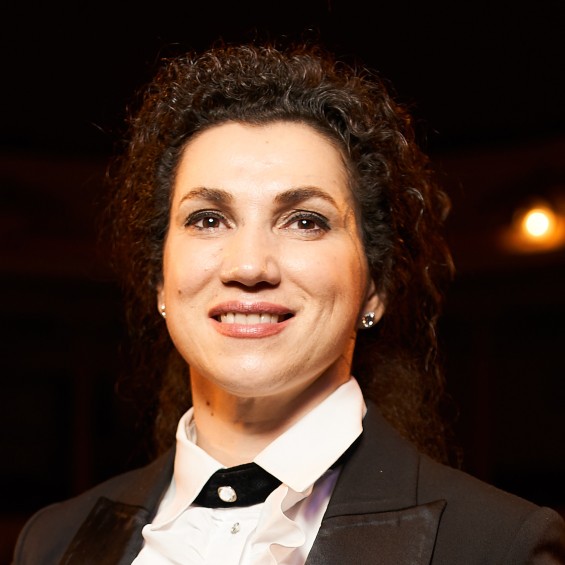 Oksana Madarash is considered as one of the most talented conductors of contemporary Ukrainian conducting school. She is well known for her innovative and contextual approach to music. She is founder, director and principal conductor of annual symphony concert 'Strauss in Operetta' which was held in Kyiv for the last ten years before the war broke out. Also Madarash is known as producer, manager and principal conductor to organize educational cycle of Classical Music Concerts named "Classica with Oksana Madarash" for young musicians. Her professionalism, unique conducting style has earned her international recognition and career. Recently her major focus has shifted to Ukrainian composers and music. As the result, production of ballet 'Aladdin' by O. Rodin at Kaunas Musical Theatre, Lithuania in 2022.
Madarash has studied at the Tchaikovsky National Music Academy of Ukraine, where she specialized in Opera & Symphony Conducting and Choral Conducting, receiving an Assistantship and Internship in Opera & Symphony Conducting.
She has won number of prestigious contests, including the Special prize Rose of Hope at the II S. Turchak National contest of Symphony Conductors in 1998 and First Prize at the International E. Stankovych Competition as Principal Conductor of Kyiv Academy of Arts Chamber Orchestra in 2012.
Oksana Madarash has conducted at various international musical festivals of Ukraine, Poland, Hungary, Austria, France, including 'Operetta in the Castle' in Lithuania, where she is a standing guest conductor.
She also cooperated with Macedonian National Opera and Ballet, Belgrade National Theatre, Budapest Operetta Theatre, Kyiv National Academic Operetta Theatre (2002-2023) as conductor-director, Kaunas State Musical Theatre (2022- present), National Symphony Orchestra of Ukraine, Kaunas City Symphony Orchestra, International Symphony Orchestra "INSO-Lviv", and many other Symphonic Orchestras of Ukraine.
As a result of her significant personal contribution to development of Ukrainian theatrical art and achievements in professional field in 2019 Oksana Madarash has received the highest title of "Peoples artist of Ukraine."
In addition to her work as a conductor, Oksana Madarash has served as a president and member of the jury for several international contests. She also lecturer at the Department of Opera and Symphony Conducting of Tchaikovsky National Musical Academy of Ukraine and is working as art director, conductor at the Kyiv Children's Academy of Arts Chamber Orchestra.